With summer in full swing, it's hard to believe that we've reached the end of another season—the first featuring a full lineup of live concerts since 2018/19. With immense gratitude, we recognize that the achievements outlined below would not have been possible without the support of our donors, subscribers, and Digital Series passholders.
Tafelmusik was delighted to welcome back BMO as Season Presenting Sponsor for a second consecutive season in 2022/23. We are extremely grateful for their support, along with that of RBC Emerging Artists Project, the new multi-year sponsor of Tafelmusik Baroque Summer Institute for 2023 and 2024.
"What a season 22/23 has been! Our first season back live in the concert hall, playing for our beloved audience. It meant so much to us to share the music we love through the magical medium of live performance. Onwards and upwards! Our 45th anniversary season will be a wonderful celebration." — Cristina Zacharias on behalf of Tafelmusik's Artistic Co-Directors.
Over the past several months, Tafelmusik has established a robust artistic and administrative leadership team overseen by Glenn Hodgins, whom we welcomed as Tafelmusik's Executive Director in late June. He joins Tafelmusik's Artistic Co-Directors—violist Brandon Chui, bassoonist Dominic Teresi, and violinist Cristina Zacharias, along with Choir Director Ivars Taurins, in shaping a dynamic and promising future. We also look forward to welcoming violinist Rachel Podger, who will take up the newly created role of Principal Guest Director in September 2024. A leading interpreter of baroque and classical music, Rachel will direct three mainstage programs per season, as well as recordings and select tours including Tafelmusik's 2024 Asia Tour.
A look back at the artistic highlights of 2022/23

"World-class orchestra playing stunning music on period instruments, beautifully, and in gorgeous surroundings. And in our own back yard!" — Tafelmusik subscriber
Tafelmusik's 2022/23 Season offered an array of remarkable guest directors, including three violin soloists and audience favourites who returned to lead contrasting programs: Aisslinn Nosky in Trailblazers: Mendelssohn & Farrenc, featuring our premiere performance of the Nonet in E-flat Major by the toast of 19th-century Paris, Louise Farrenc; Rachel Podger in La Passione: Haydn & Mozart, an invigorating program of classical symphonies and concertos; and Leila Schayegh, who brought the audience to its feet for our season finale, Grand Voyage: The French Baroque.
Two outstanding harpsichordists made their Tafelmusik debuts as guest directors in 2022/23: Avi Stein directed our season opener, Handel's London—a tribute to the lively metropolis where musical influences intersect. Dedicated to the memory of Allen Whear, Tafelmusik's Associate Principal Cellist from 2000 to 2022, these performances featured Short Story, his evocative 2006 composition inspired by Purcell. In early March, Francesco Corti brought his exuberant energy to Bach's Library, a fascinating program of music by J. S. Bach and those who inspired him.
"The concerts have been exceptional. I have enjoyed myself and rekindled my love for live orchestral music." — Tafelmusik subscriber
In April, we were thrilled to present the Canadian debut of male soprano Samuel Mariño in Higher Love: Virtuoso Arias. Mariño's hypnotic stage presence and astonishing artistry mesmerized audiences at two sold-out performances and an open rehearsal. As Ludwig van Toronto noted, "both his lyric instincts and his rat-a-tat technique are secure, to say nothing of his sincere emotional investment in the musical material. What stands out as individual is his tone. Close your eyes and you think you are hearing … well, not a soprano. Bright and pure are adjectives that come to mind, although neither quite reflects its arresting quality."
No season would be complete without the soul-stirring artistry of Tafelmusik Chamber Choir directed by Ivars Taurins. The first of three wide-ranging choral programs was Reflections of Mary, which paired Marian works by Charpentier and Poulenc with the world premiere of Salve Mater, a commission by Canadian composer Tawnie Olson.
Following the two-year hiatus of Tafelmusik's joyous holiday tradition, Handel's Messiah returned in December 2022 to sold-out houses at Koerner Hall. The outstanding cast of soloists included Myriam Leblanc, soprano (stepping in for the indisposed Karina Gauvin); Christopher Lowrey, countertenor; Valerio Contaldo, tenor; and Brett Polegato, baritone.
A unique multimedia presentation of Bach's St John Passion, complemented by projected illuminations from The Saint John's Bible, was a major highlight of Tafelmusik's 2022/23 season. Guest soloists Myriam Leblanc, soprano; Krisztina Szabó, mezzo-soprano; James Gilchrist, tenor; and Jonathon Adams and William Sharp, baritones, joined the Tafelmusik Baroque Orchestra and Chamber Choir for three intensely moving performances. Thanks to a collaboration with Regis College at the University of Toronto, two volumes of the facsimile edition of The Saint John's Bible were on display for audiences at Trinity-St. Paul's Centre during the performances.
Tafelmusik Baroque Summer Institute and Festival
Last month, musicians from around the world joined Tafelmusik for four free concerts in three different venues as part of the Tafelmusik Baroque Summer Festival. Attracting more than 1,200 attendees, these performances were presented in conjunction with the 22nd annual Tafelmusik Baroque Summer Institute (TBSI), a top-tier training program led by some of the world's finest musicians in the field of baroque performance practice. Our first in-person edition of TBSI since 2019 was a resounding success, welcoming 87 participants from across Canada, the US, Australia, South Africa, Ireland, Italy, Spain, Chile, Japan, Taiwan, China, and South Korea for two packed weeks of masterclasses, concerts, lectures, and workshops.
Community Collaborations
As a major cultural partner in the city of Toronto, Tafelmusik is committed to offering a wide range of concerts in various venues, with programs featuring different types of repertoire and experiences. Seeds planted more than a year ago came to fruition as Tafelmusik at the Garden, a new three-concert chamber series created in partnership with the Toronto Botanical Garden (TBG). These Sunday afternoon concerts performed in the lovely setting of TBG's Floral Hall offered a heady feast for the senses.
"Tafelmusik concerts offer fine musicianship, interesting programing, and a delightful audience experience." — Tafelmusik subscriber
Tafelmusik continued to animate indoor and outdoor community spaces last month with concerts presented in collaboration with three GTA institutions: the Columbus Centre (co-presented by Villa Charities); Toronto Music Garden as part of Harbourfront Centre's Summer Music in the Garden series; and McMichael Canadian Art Collection, coinciding with the McMichael's summer exhibition, Tom Thomson: North Star.
We were delighted to continue our long-standing partnership with Opera Atelier this season for two sumptuously rendered productions: Purcell's Dido and Aeneas and the Canadian premiere of a fully-staged production of Handel's The Resurrection.
Audience Engagement

In keeping with our quest to explore baroque and beyond, this season we presented two Tafel Talks—lively online conversations exploring the many intersections between baroque music and our world today. Topics included The New Romantics, which explored 19th-century music from a historically informed perspective, moderated by Keiran Campbell with panelists Vijay Chalasani, Ruth Denton, and Tanya Tomkins; and The Sopranos, Princes of the Opera World, an animated discussion about the influence of gender-defying voices, moderated by Matthew White with panelists Michael Maniaci, Krisztina Szabó, and Darryl Taylor.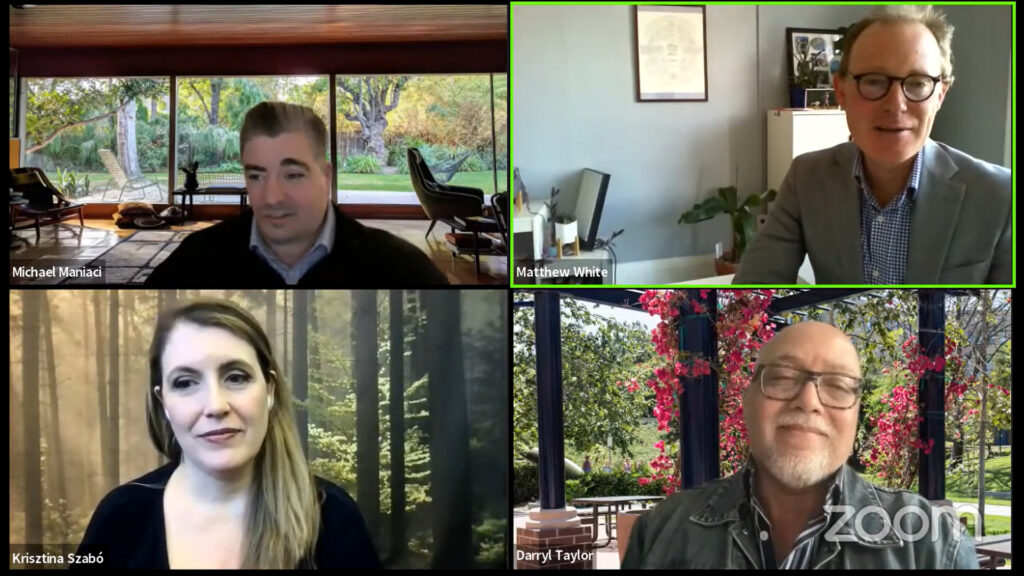 We were pleased to present Bach and the Harpsichord, an exclusive subscriber lecture this season. Tafelmusik's harpsichordist and librarian Charlotte Nediger hosted this hybrid event, available both in-person at Jeanne Lamon Hall and online for on-demand viewing.
We also hosted two open dress rehearsals, offering an accessible, up-close-and-personal experience for those who attended. In March, 80 students from Mayfield Secondary in Caledon, along with others from the University of Toronto and Regis College, attended an open rehearsal for Bach St. John Passion, followed by a Q&A with the performers. In April, more than 130 guests from Pride TO and the LGBTQIA+ community, along with students from the University of Toronto and the Glenn Gould School, attended an open rehearsal for Higher Love: Virtuoso Arias with guest soloist Samuel Mariño.
"We were absolutely thrilled to be there. The kids have been buzzing about it ever since. I was so happy to show them 415 tuning in real life!" — grade 11 teacher, Mayfield Secondary School
The return of the Digital Series Pass invited music lovers to enjoy Tafelmusik at home, on demand with a three-concert digital series enhanced by expert-led lectures and bonus content. Our exclusive digital concert films—Handel Messiah, Bach Brandenburg Concertos, and La Passione: Handel & Mozart—were available as an addition to live-concert subscriptions or as a standalone series, bringing the magic of Tafelmusik to homes across Canada and beyond.
Other offerings included two Donor Academy lectures presented as hybrid online and in-person experiences. Soprano and scholar Ann Monoyios led viewers on an exploration of Bach's St. John Passion, and Tafelmusik violist Patrick G. Jordan discussed The Galant Style: Getting from Corelli and Bach to Mozart and Beethoven.
Tafelmusik on the airwaves
As the world emerged from the pandemic, we were honoured to extend Tafelmusik's reach locally and internationally through broadcast media features and behind-the-scenes interviews with guest artists and members of the choir and orchestra.
In March 2023, WCPE The Classical Station in North Carolina devoted a two-hour feature to Tafelmusik, which included a Q&A with Dominic Teresi, Artistic Co-Director.
Closer to home, Tafelmusik musicians past and present—Aisslinn Nosky, violinist, and John Abberger, oboe—were front and centre as they hosted an episode each of This is My Music, CBC's weekly classical music program heard by hundreds of thousands of listeners across Canada.
In March, CBC's local morning radio show Metro Morning featured a segment with host Ismaila Alfa in conversation with guest director Franceso Corti, Artistic Co-Director Cristina Zacharias,and harpsichordist Charlotte Nediger. Metro Morning reporter Mary Wiens visited Jeanne Lamon Hall in April for a conversation with male soprano Samuel Mariño and violinist Julia Wedman. Meanwhile, the morning show Y'a pas deux matins pareils on Radio-Canada, CBC's French-language sister network, featured interviews with guest artists Leila Schayegh and Samuel Mariño, as well as with Dominic Teresi and a member of Tafelmusik Chamber Choir, Roseline Lambert.
At Easter, CBC Radio Ideas re-broadcast its hour-long 2015 documentary on Bach's St. John Passion, an illuminating deep dive into the work with Choir Director Ivars Taurins and music broadcaster Robert Harris. Taurins also revisited the topic of St. John Passion in an interview with The New Classical FM host Mark Wigmore.
In February and March, Canada's multicultural network OMNI TV aired a pair of Italian-language television segments featuring interviews with Tafelmusik's Interim Executive Director Daniela Nardi and guest director and harpsichordist Francesco Corti.
On a bittersweet note, John Abberger, our principal oboist since 1989, has announced that he will be retiring at the end of next season. John has made a significant and lasting contribution to Tafelmusik over the years, both on stage and behind the scenes as a member of various committees, most notably for the acoustic retrofit of Jeanne Lamon Hall. One of North America's leading performers on historical oboes, John is known for the "touching serenity" (Gramophone) of his playing. His Tafelmusik recording of the Concerto for Oboe by Alessandro Marcello is considered "one of the best there is." Local audiences will have the opportunity to experience John's playing first-hand throughout Tafelmusik's 2023/24 season, and we are grateful that he will remain part of Toronto's early music ecosystem as Artistic Director of the Toronto Bach Festival.
"My decision to retire is taken with a great deal of emotion, and no small amount of sadness, as I look back on my wonderful years as oboist with this incredible orchestra. I have collected great memories over the years, but two things stand out for me in equal measure: the joy of performing for the wonderful Tafelmusik audience and both the privilege and honour of working with my wonderful colleagues. Together we have challenged and supported each other to reach for the highest standards of artistic excellence, both as individual musicians and as an orchestra. The support of both of these groups of people have made me a better oboist, a better musician, and a better person. This is what I will miss the most." — John Abberger
"John has been the cornerstone of the Tafelmusik wind section for 35 years and is an integral part of Tafelmusik's musical legacy. Over his long tenure as principal oboe, he has played and recorded all of the greatest music in the baroque and classical canon, from Bach to Beethoven. We are so grateful for John's tireless dedication to Tafelmusik, both on and off the stage. His passion for our repertoire, beautiful lyrical playing, and deep musical knowledge will be profoundly missed." — Brandon Chui, Cristina Zacharias, and Dominic Teresi, Artistic Co-Directors
We are excited to welcome the newest member of Tafelmusik, cellist Michael Unterman, who joined the orchestra as a core member in January 2023. He performs with the string orchestra A Far Cry, serves as principal cellist of Boston Baroque, and was the Artistic Director of Five Boroughs Music Festival in New York City. A Vancouverite who has spent the better part of 20 years based in the Northeast US, Michael is particularly excited to be spending more time north of the border with Tafelmusik.
"Amazing music, beautifully crafted, so rich in expression and meaning. Tafelmusik is truly a gem of this city!" — Tafelmusik subscriber

Two members of the Tafelmusik Chamber Choir will be stepping down at the end of this season. Alto Peter Mahon, the longest standing member of the choir, joined in 1984 and has played a leadership role over his 39-year tenure, mentoring younger singers joining the choir, including three of his own children: Andrew, Natalie, and Teresa. Baritone Keith Lam has been a member of the choir since 2012 and often assumed solo parts with poise and panache. We are very grateful for the significant contribution Peter and Keith have made to Tafelmusik Chamber Choir over the years.
We couldn't wrap up this season without acknowledging the passion and dedication of Daniela Nardi, who served as Interim Executive Director from July 2022. A seasoned arts professional, Daniela stewarded significant Tafelmusik stakeholder relationships and fostered a collaborative environment that nurtured teamwork and inclusivity among staff and musicians. A champion of community partnerships, she established two Tafelmusik chamber concert series at the Columbus Centre and the McMichael Canadian Collection. Her extensive relationship-building efforts around the Tafelmusik debut of guest director and harpsichordist Francesco Corti resulted in a warm welcome from members of Toronto's Italian community in attendance. Under Daniela's leadership, Tafelmusik secured Ruffino Coffee as a new sponsor and welcomed back BMO as Season Sponsor for the second consecutive year. Two new senior staff members joined Tafelmusik during her tenure, ensuring a smooth transition for incoming Executive Director Glenn Hodgins.
"As Interim Executive Director of Tafelmusik during a time of transition and healing, I am incredibly grateful to have had the opportunity to work with such an exceptional team. Witnessing the organization's resilience as it emerged from the pandemic and renewed its collaborative community spirit has been truly inspiring. Together, we embarked on a transformative quest, overcoming challenges, developing as a team, and learning to thrive in a post-COVID world. I am thankful for the music that brought us together and the positive impact we made as a team. This experience will forever hold a special place in my heart, and I am honoured to have been part of Tafelmusik's journey." — Daniela Nardi
Looking ahead to September, we can't wait to launch Tafelmusik's 45th anniversary season, The Sound of Beauty. Our sparkling 23/24 line-up features the world premiere of Staircases, Alison Mackay's latest multimedia creation in collaboration with composer and baritone soloist Jonathan Woody; our first US tour since 2019; a new live concert recording, A Handel Celebration for future release on the Tafelmusik Media label; and the return of our popular Haus Musik series in a new venue, Toronto's legendary El Mocambo. We also look forward to welcoming exceptionally gifted guest directors to our stage including Kristian Bezuidenhout, Aisslinn Nosky, Emmanuel Resche-Caserta, Lina Tur Bonet, Zefira Valova, and Bruno Weil, and guest vocal soloists Amanda Forsythe, Thomas Hobbs, Enrico Lagasca, Rachel Redmond, James Reese, and Cameron Shahbazi.
We couldn't be prouder that Tafelmusik's concert film, La Passione: Haydn and Mozart with Rachel Podger, has been selected to screen during the VOCES8 Foundation's Live from London Festival in the UK. The film premieres online on August 12 and will be available on demand until September 17, 2023.
"Unsurpassed level of artistry throughout the entire orchestra. Always a total delight to hear, and watch, them make music together." — Tafelmusik subscriber
As the 2022/23 Season fades in the rear-view mirror, we wish you all a wonderful summer and invite you to join us again in the fall to celebrate our 45th anniversary!
---
Thank You to our Generous Donors
Tafelmusik is deeply grateful to our generous donors who have continued to support us through this challenging time. Your support has inspired us to remain strong and to deliver joy to our community through our music, and will enable us to persevere until we can once again perform live for you, our cherished patrons. Thank you for believing in Tafelmusik and in the power and beauty of music.
If you would like to make a gift, please click here or contact us at donations@tafelmusik.org.
Thank you to our government sponsors